Agile Development
Agility is the surest way to establish a functional harmony between Cost, Effort, and Risk. With proper implementation, Agile can make the code many times lighter and a lot more effective.
Lean and agile development are the underpinnings of DevOps and Continuous Engineering, helping teams cut waste, shorten cycle times and increase customer value.
Clovity combines it's sophisticated, well-proven Agile practices with design thinking to ensure that the customer remains the central focus during the application development lifecycle. We believe this approach is a key differentiator for our application development capabilities.
Our preferred Agile methodology is Scrum with a combination of in-house frameworks to deliver maximum value with optimum speed and efficiency.
It provides the best mix of control and visibility, while also allowing flexibility in the software development process. All these factors make it ideal to manage software development outsourcing.
Clovity's proprietary framework "Synthesis ™", combined with it's in-house Agile Development methodology, brings the right mix of principles, tools, practices and techniques to deliver true Agile development with a distributed Scrum team.
reasons to work
with us
Agile Development and Continuous Engineering
Clovity firmly believes that true Agile can be achieved only with Continuous Integration and Delivery. And we put our belief into practice.
Our developers are masters of Continuous Engineering, and we can say that with confidence because we religiously follow defined guidelines, checklists, integrated development suit, and a step-by-step document processes of design, development, and implementation.
Our Continuous Engineering works in tandem with our in-house Agile Development Methodology. These two are tightly integrated and are indispensable as tools to all our business undertakings.
Establishing Agile Practices
All of our processes at Clovity are Agile ready. We offer services that are truly agile, because we follow those practices ourselves.
Clovity has a set of seasoned agile practitioners who are experts in the field. Familiar with all aspects of Agile development, they are the people who run our Agile Development Center of Excellence. They also work in tandem with our clients in establishing and providing governance to young agile enthusiasts.
This failsafe approach allows our developers to create the best products for you, that too faster, with fewer bugs, and as close to your vision as possible. The best part is that they hope to achieve all this in the very first attempt.
Agile Product Development
Integrating new age design and traditional development practices to bring agile methodologies to mechanical design
Agile practices help engineers and executives establish deliverable-based metrics in place of design-based metrics. The focus inevitably shifts to producing more valuable working prototypes that can be tweaked as per need.
Clovity's Agile practices are also a big draw for the new brains a.k.a. GenY. It establishes practices that better integrate resources and gives creative freedom to developers and engineers.
In the long run, Agile development practices involve more stakeholders and establish a self-organizing, self-correcting development structure.
Agile Mobile Development
Mobile is the future, so is Agile. Our ability to bring the two together sets us apart.
Why Agile for Mobile matters?
The Mobile app environment is more volatile than standard development. It's more open to changes and quicker to respond to external forces. That's why agile is the way to go with mobile development. With Clovity's experience in bringing the two together, you can be rest assured that we've got you covered, no matter what the development challenge.
Can agile make apps more successful?
In nearly all cases, yes, it can. Clovity focuses on creating a minimum viable product first and then improve on it based on a continuous feedback and assessment loops. Agile helps mobile apps find crucial pivots at the right time, thus saving a lot of correcting work later on.
Quality Engineering
Increasing the quality of engineering using agile testing and development practice.
Traditional development and testing methodologies don't fit well into agile. But then, that's what we're here for. With our time-tested agile development methodologies, we are able to deliver testing times at the speed and efficiency of agile.
One of the surest ways to achieve effective resource allocation is by moving from traditional to Agile testing methods.
Agile testing allows us to deliver new features and ensures quality on a sustainable, long-run business cycle. We integrate QA engineers and developers on a single team to better implement agile.
We work in tandem with the developers in phases of exploratory testing. This practice is invaluable since it helps us identify and remove serious bugs right in the development stage. Clovity's exploratory testing is light years ahead of manual testing. We maintain a high level of quality by balancing automated and exploratory testing.
We practice Automated Testing.
Through the use of Automated Testing, we ensure that the code is working exactly the way it was designed to, while it's being designed. This is achieved by automating the testing process across all levels of development.
Internet of Things
Future-proofing the product by integrating it with the Internet of Things philosophy of development.
We integrate Agile Development and Continuous Engineering in a way that's sustainable in the long run and compatible with the modern philosophy of Internet of Things (IoT).
Continuous Engineering is especially well-suited to work along with agile methods and IoT.
Over the past few years, agile has expanded from being merely a software development methodology. It now encompasses systems engineering activities as well.
How can Agile help IoT?
One of the biggest problems in IoT is achieving cross-platform compatibility of the product across multiple devices. Agile can help get rid of system integration bugs right at the beginning by delivering well tested and working solutions only.
Agile also reduces a lot of "post-production" tweaks and adjustments. This makes the development process efficient and the delivery timely.
Clovity's Approach
Clovity helps you establish a single working platform for engineers, developers, and product managers to work together in collaboration. We are capable of integrating third-party vendors to our systems as well, giving you access to customized solutions.
Clovity Synthesis
Clovity's Synthesis™ framework is a simple but powerful approach to Agile — an amalgamation of simple and realistic solutions to overcome the challenges in achieving true Agile.
Synthesis™ overcomes the constraints that an organization faces and delivers success.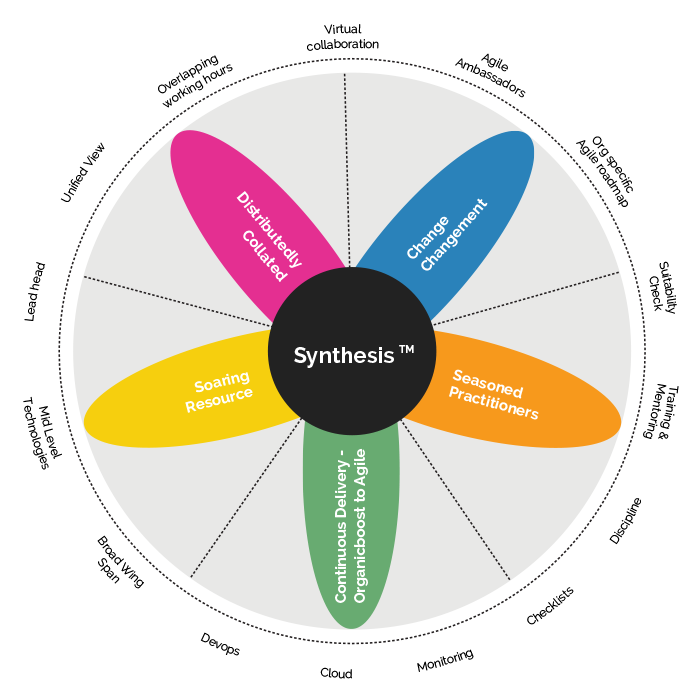 learn more
Industries we
focus on
Clovity is a True Agile Partner and focused on Banking, Healthcare, Retail & Technology driven industries to bring about transformation through customer success. Our deep Industry expertise, hand and glove partnering and leading IoT, Digital and Data transformation projects and powered by our solutions, plug and play, partner ecosystem and accelerators, we are delivering our client's customer promises.
We are passionate about helping
you maximize value of your

IoT investments - CSensorNet is your answer!
At Clovity, we believe that providing reliable, scalable and innovative solutions is the only way for guaranteed customer satisfaction. We analyze every problem as one element of a greater system, and combined with our solution accelerators and plug & play frameworks along with understanding of our customer ecosystem is the only way on how everything comes together with faster time to market for any product launch. Only by listening to the end user can we provide optimized solutions that solve the specific needs of the industries we serve. With ever more customers requiring ever more sophisticated solutions, only innovations tailored by informed thought leadership and solutions can provide customers with next generation cutting edge project solutions and platform - CSensorNet.
learn more