Smart City Solutions
Leading the future by building tomorrow's Smart Cities Vision through robust networking infrastructure and Edge to Cloud to Digital Solutions
Smart Cities are coming closer and closer to full realization. Today's Smart Cities are being built from the ground up, starting with smart roads, smart buildings, smart energy, smart environment, smart farms, smart grids, smart utility, smart education and much more!
Building Smarter cities from ground up!
It's easy to focus on the technical underpinnings and implications for a Smart City, but the spearheading mission of each smart city project needs to be for the human benefit. Smart cities, in theory, should be able to give individuals back around 125 hours a year of extemporaneous daily tasks if the systems within the city are fully integrated.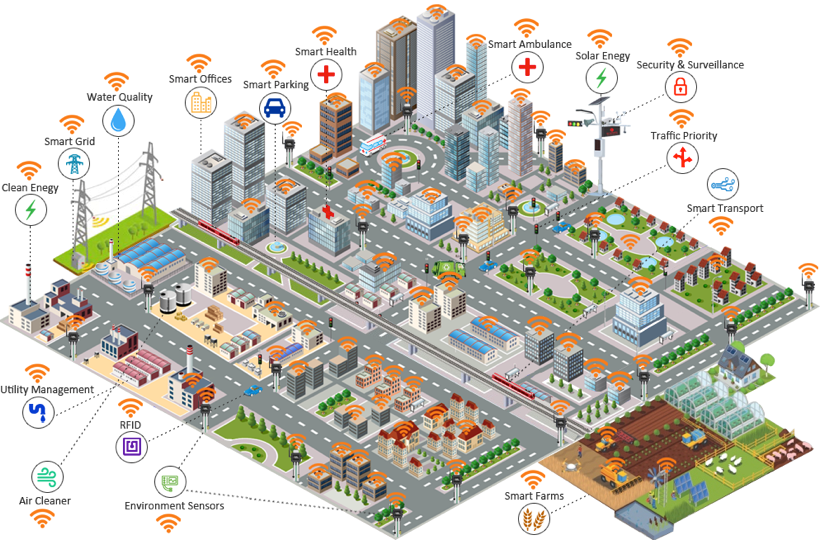 Clovity's Smart City Vision
Clovity's experience in bringing multiple digital endpoints which are integrated into critical infrastructure like roads, public transportation, and traffic lights, where these systems are carefully crafted from security standpoint. Clovity team continues to embrace the new age world of 5G-IoT, by putting together the components of a next generation Smart City roadmap including Smart Infrastructure, Smart Buildings, Connected Healthcare, Connected Devices, Connected Energy, Connected Services and much more.
our value
proposition
THOUGHT LEADERSHIP
Our Smart City Solutions covers every aspect of a Smart City from security infrastructure to real-time intelligence platforms, coupled with a multi-tenant Edge & Mesh Technology Architecture with real-time data streaming and much more.
CLOVITY'S SMART CITY VISION
Clovity is bringing the concept of "smart cities" to real world implementations covering Edge, Internet of Things (IoT) technologies such as connected devices, sensors, smart meters and smart lights to collect and analyze data real time to improve public infrastructure and services, through a robust Business Support Systems (BSS) and Operations Support Systems (OSS) foundation architecture built on top of 4G, 4G LTE or 5G network.
CLOVITY'S CONNECTED DEVICES AND INFRASTRUCTURE EXPERIENCE
Our Solution Architects, having treaded this path know the challenges and therefore are able to avoid the pitfalls in bringing such a mammoth solution to bear. Our experience in Device, Cloud, Infratructure security coupled with standard & non-standards for data interchange and capture along with out of box integration capabilities helps our clients to realize their Smart Cities vision faster.
CLOVITY'S CSENSORNET – SMART CITY ACCELERATORS & FRAMEWORKS
We at Clovity have built a plug and play framework called CSensorNet which solves key challenges in successfully deploying IoT solutions in Healthcare, Retail, Banking and many other industry verticals.
Clovity is at the leading edge of platform, data infrastructure and service delivery innovation for enterprise and managed solutions where convergence of networked computing, large scale data management with real time machine intelligence is driving the integration of the physical and virtual worlds.
Clovity Synthesis
Clovity's Synthesis™ framework is a simple but powerful approach to Agile — an amalgamation of simple and realistic solutions to overcome the challenges in achieving true Agile.
Synthesis™ overcomes the constraints that an organization faces and delivers success.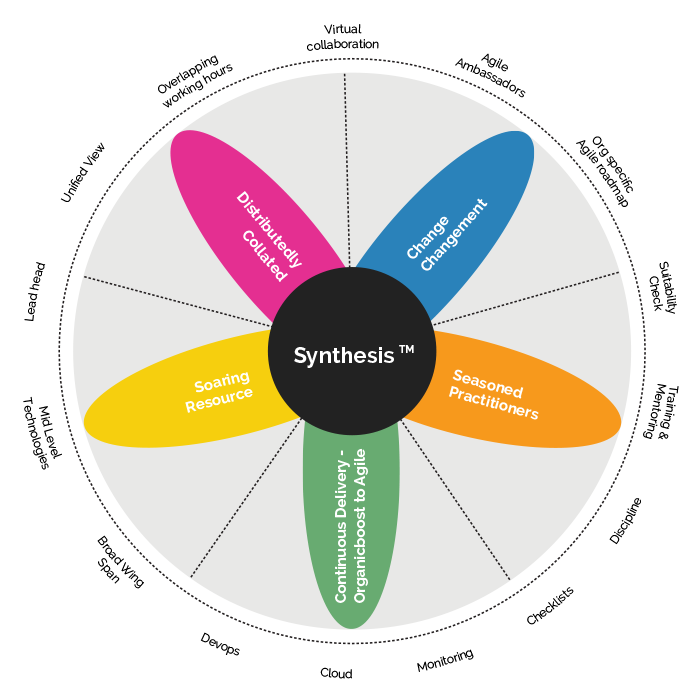 learn more
Our Studios
At Clovity Studios, we are combining our efforts and energies together to bring about a successful transformation in IoT, Digital, Mobile and Big Data focus in Banking, Healthcare and Retail industries through leveraging Synthesis and True Agile Methodologies with Onsite and CloudDev to every aspect of our client's lives, businesses and engagements. Every strand at Clovity works in absolute synchrony to create a powerful transformation, and serves as building blocks for all future advancements.
We are passionate about helping
you maximize value of your

IoT investments - CSensorNet is your answer!
At Clovity, we believe that providing reliable, scalable and innovative solutions is the only way for guaranteed customer satisfaction. We analyze every problem as one element of a greater system, and combined with our solution accelerators and plug & play frameworks along with understanding of our customer ecosystem is the only way on how everything comes together with faster time to market for any product launch. Only by listening to the end user can we provide optimized solutions that solve the specific needs of the industries we serve. With ever more customers requiring ever more sophisticated solutions, only innovations tailored by informed thought leadership and solutions can provide customers with next generation cutting edge project solutions and platform - CSensorNet.
learn more