END TO END ENTERPRISE CLOUD MANAGEMENT & MODERNIZATION
Enabling enterprise cloud customer success by stringent RoI and effective business engagement through Clovity's Cloud Management Solutions
The investments in the cloud have seen an unprecedented increase with more and more organizations either moving to cloud or enhancing their cloud platforms for further optimization and expansion. Cloud has indeed become the focal point of any technology transformation discussion and is being given prime importance like what was given to former in-house IT infrastructure.
We have been helping our customers and our customers' clients by not just embarking on the cloud journey but helping those who are well within the cloud adoption and maturity. As data volumes continue to grow in the digital age, applications requiring more computing space, combined with advanced analytics, cloud is proving to be quintessential for business process consolidation and to save on technology resources.
No matter how complex or demanding our customers' needs are, from strategy to assessments to complete integration as well as application development, deployment and support, migrations — Clovity's team carefully understand technology, business and customer objectives and bring a true solution, within budgets, without compromising on quality, governance and risks. Our Unique approach towards cloud management and solutions ensures:
Approach it as a journey, and not a big-bang approach
Build strong understanding of Cloud Essentials w.r.t Business Objectives
Involve Technology, Business, Management to establish clear Business Drivers
Apply the right People, Process and Partners
Establish "Success" Criteria and how to measure success
Choose the right Cloud Partner with strong experience, knowledge and support
Follow strict "Change Management" principles allowing room for errors, omissions and improvements
OUR VALUE
PROPOSITION
RESULTS FOCUSED APPROACH
A Holistic approach towards cloud, technology and business
We at Clovity take a holistic approach towards today's businesses and the demands of the business customers. We leverage common sense combined with our extensive industry wide experience to help our customers survive or transform, whatever the situation might be. By deploying our deep expertize and business acumen, we are razor focused on results that matter.
CONVERGING CLOUD, BIG DATA AND IoT
We are converging Cloud based solutions to deliver Big Data and IoT roll-outs
At Clovity, we are bringing the best-in-breed talent with the experience to converge IoT, Cloud, and Big Data technologies, in the Banking, Finance, Healthcare and Retail industries to bring about a comprehensive technology backed solution. Our cloud experience spans across Amazon Web Services, Azure, Oracle and Google Cloud including hybrid roll-outs.
SOLUTION BASED APPROACH
We believe in solving problems which leave meaningful impact
The genesis of Clovity is based on being a solution provider and we take a solution and problem solving approach to every aspect of our engagements. After all! If there is no problem why should we spin up a solution? Our Cloud Architects prime goal at the start of every engagement is to gather the big picture strategy from the customer and then proposing and executing a phased roll-out plan to achieve the big picture while maximizing on investments during the migration journey.
CONTINUOUS END TO END INTEGRATION, DELIVERY AND DEPLOYMENT
Our Strategy is helping organizations deliver new features faster and efficiently
Clovity's strategy revolves around creating a repeatable, reliable and consistently improving process from ideation to solution. Our goal is to enable a constant flow of changes into build automation, continuous integration, testing, and deployment of plug-and-play or customized solutions.
CONSUMERIZATION ORIENTATION
Harnessing the impact of consumerization in true organizational realms
Consumerization is having a profound impact on enterprises where consumer generated behaviors and models are impacting organizational applications and approach. Everything we do at Clovity is based on achieving two simple goals – increase productivity and enhance customer satisfaction. By leveraging advanced technology ergonomics, mobility and digital experience coupled with our solution focused approach, we are building long term relationships at the convergence of Cloud, IoT and Big Data, leveraging Hadoop, Spark, Cloudera, Tableau, and much more to deliver applications that makes lives simpler for everyone.
COMPEHENSIVE CLOUD EXPERTISE
Spanning across all aspects of Cloud Migration, Management and Enhancement
Clovity's Cloud Management team are oriented towards providing a single stop for end to end cloud solutions for our clients, from strategy to support and our experienced cloud athletes are the cornerstone of our customer promise. We cover:
PaaS, Dbaas and Apps in Cloud allowing reduction in cycles for development and space optimization for intensive workloads.
IaaS by combining security and control of on premise systems with unique cloud computing features.
BI integrated Cloud Management provides advanced analytics with visualizations and real-time reporting.
Middleware Solutions providing flexibility and efficiencies to the SOA or Micro-services architecture allowing sharing of memory, allocation and dynamic adjustment for faster computing and response.
Processes adoption to fast-changing cloud infrastructure including ephemeral workloads and auto-scaling applications including API integrations.
Deployment Solutions covering cloud application migration, on-prem, off-prem cloud infrastructures and application support.
Clovity Synthesis
Clovity's Synthesis™ framework is a simple but powerful approach to Agile — an amalgamation of simple and realistic solutions to overcome the challenges in achieving true Agile.
Synthesis™ overcomes the constraints that an organization faces and delivers success.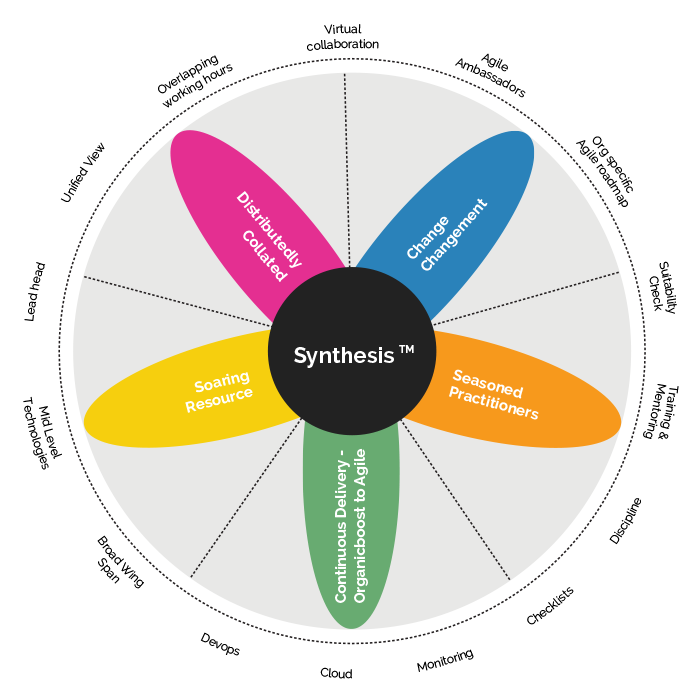 learn more
Industries we
focus on
Clovity is a True Agile Partner and focused on Banking, Healthcare, Retail & Technology driven industries to bring about transformation through customer success. Our deep Industry expertise, hand and glove partnering and leading IoT, Digital and Data transformation projects and powered by our solutions, plug and play, partner ecosystem and accelerators, we are delivering our client's customer promises.
We are passionate about helping
you maximize value of your

IoT investments - CSensorNet is your answer!
At Clovity, we believe that providing reliable, scalable and innovative solutions is the only way for guaranteed customer satisfaction. We analyze every problem as one element of a greater system, and combined with our solution accelerators and plug & play frameworks along with understanding of our customer ecosystem is the only way on how everything comes together with faster time to market for any product launch. Only by listening to the end user can we provide optimized solutions that solve the specific needs of the industries we serve. With ever more customers requiring ever more sophisticated solutions, only innovations tailored by informed thought leadership and solutions can provide customers with next generation cutting edge project solutions and platform - CSensorNet.
learn more