Smart Media and Entertainment Solutions
Redefining the way content is produced, distributed, and consumed.
Clovity's Media and Entertainment Solutions are aimed at redefining the content market in the 21st century. Billions of devices are expected to be connected in the coming years and media and entertainment companies are looking to harness the power of IoT, Digital, Mobility, and Data applications.
That's where Clovity comes in.
our value
proposition
Practice and Overview
We bring together a high-performing, experienced team capable of delivering enhanced strategy solutions.
The increasing number of streaming devices makes it possible for us to read, gauge, and understand media at unprecedented levels. This huge consumption also leads to a wide range of data points, which can be invaluable for creators of content.
Clovity's biggest strength is it's ability to leverage disruptive AI and Machine Learning technologies to work alongside the Internet of Things (IoT) and Mobility frameworks. This helps us find meaning in the supposedly abstract data points. For our users, we are able to deliver highly personalized and contextually relevant entertainment experience.
Immersive Experience P.E.A.
Clovity's focus rests on providing an immersive experience to the three pillars of the industry - Providers, Entertainers, and Audience.
By capturing IoT and SmartHome opportunities, we are bringing the best mix of technology, experience and expertize to consumers and providers alike. Our core services are data-driven and completely scalable. We are also leveraging Blockchain concepts in Media and Content industry to better manage authenticity and security with the large amounts of transaction data.
In addition, we also regularly employ "exponential technologies", such as robotics, virtual and augmented reality (VR - AR), and artificial intelligence (AI). These are ably supported by our fleet of "cognitive technologies", such as machine learning, natural language processing, and speech and pattern recognition to support our clients.
Internet of Things
Delivering solutions that lies at the intersection of big data, Internet of Things (IoT), analytics, and big data distributions.
We are creating scalable and sustainable solutions that enhance customer experience. IoT is a big part of it, so is Mobility and Big Data playbook. Some of the areas where we have established dominance are as follows:
Home and On-the-Move personalization: Building Smart Homes and Connected Cars, where personalized content can be streamed either at home or while on the move.
Personal Portals: Automated authentication systems, with the help of connected devices and sensors, eliminating the need to remember multiple passwords and credentials.
Wearables: Building authentication and identifications from different wearables to help establish and deliver more personalized content.
Thought Leadership
We are at the forefront of the trends in the media and entertainment industry, paving the way for future technology advancements.
Clovity regularly works with different sections of the media and entertainment industry. This has given us an insight into the workings of the industry. Guided by this knowledge, we have invested our time and resources into creating next-gen solutions.
Our efforts include, but are not limited to, telecom and cable service providers, advertising and marketing agencies, information technology firms, consumer electronics manufacturers, TV and movie studios, sports organizations, recreational facilities, event promoters, gaming companies, casinos, and many others.
We are helping Media and Entertainment companies creating new experiences for consumers based around IoT products to spark consumer interest, and gain insights through engagement data which exist in consumer lives today. We are building solutions by leveraging location data, emotional states, and get content presentation to adapt at scale to such subtle data points.
Plug and Play Solutions
Readymade solutions built out of our experience and expertise.
Our vast and cross industry experience has made it possible to identify, define, and categorize the most likely problems of the field. We then developed ready made service solutions to help speed up dealing with these issues.
We have three specially made "embroidered plug-and-play" services to offer. These can be used individually or with each other, depending on your needs.
Document Digitization Frameworks: Converting your entire documentation to a digital format for easy access, sorting, and backups, especially those processes which are agreement heavy.
Advanced Analytics Frameworks: State-of-the-art predictive analysis algorithms, providing clustered "why" to better your deployment strategies and minimize risk.
Advanced Biometric Solutions: Anti-theft, anti-hacking, and cyber-secure biometric solutions to keep the precious content and information always safe.
GPS Accelerators: Includes multi-channel, cost-effective, and convenient GPS solutions that have become the cornerstone of modern connected Media and Entertainment institutions.
One Step Ahead
The proliferation of technologies and tools to create a robust integration strategy and it's deployment.
Clovity's prime moving force is the emphasis we put on staying ahead of the curve. We are never satisfied with mediocrity, and we are always willing to push the envelop, delve into unchartered territories.
Our reusable frameworks, coupled with our functional and technical capabilities, help our clients radically transform their businesses. These changes are essential to stay competitive in a rapidly evolving market.
The Media and Entertainment industry is experiencing an explosion in content creation and distribution, and Clovity's solutions are the ideal way to move ahead.
Clovity Synthesis
Clovity's Synthesis™ framework is a simple but powerful approach to Agile — an amalgamation of simple and realistic solutions to overcome the challenges in achieving true Agile.
Synthesis™ overcomes the constraints that an organization faces and delivers success.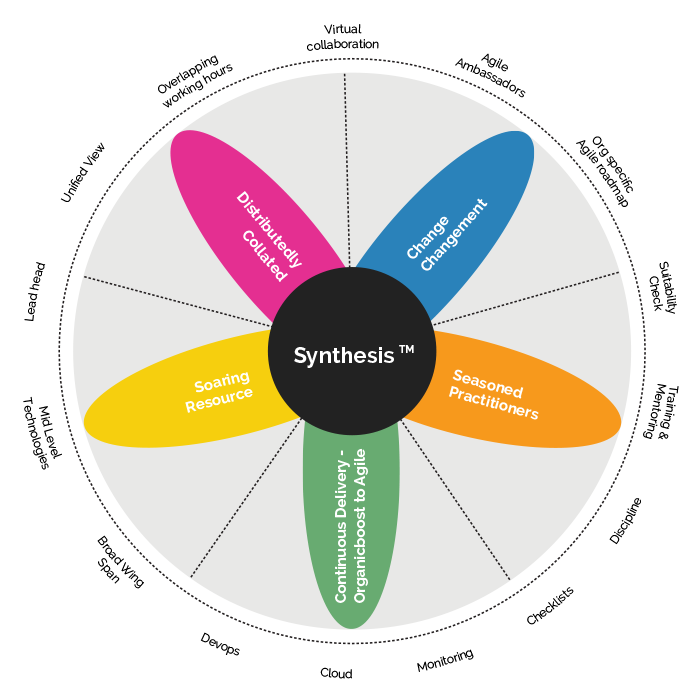 learn more
Our Studios
At Clovity Studios, we are combining our efforts and energies together to bring about a successful transformation in IoT, Digital, Mobile and Big Data focus in Banking, Healthcare and Retail industries through leveraging Synthesis and True Agile Methodologies with Onsite and CloudDev to every aspect of our client's lives, businesses and engagements. Every strand at Clovity works in absolute synchrony to create a powerful transformation, and serves as building blocks for all future advancements.
We are passionate about helping
you maximize value of your

IoT investments - CSensorNet is your answer!
At Clovity, we believe that providing reliable, scalable and innovative solutions is the only way for guaranteed customer satisfaction. We analyze every problem as one element of a greater system, and combined with our solution accelerators and plug & play frameworks along with understanding of our customer ecosystem is the only way on how everything comes together with faster time to market for any product launch. Only by listening to the end user can we provide optimized solutions that solve the specific needs of the industries we serve. With ever more customers requiring ever more sophisticated solutions, only innovations tailored by informed thought leadership and solutions can provide customers with next generation cutting edge project solutions and platform - CSensorNet.
learn more