Accelerators
Proven, tangible, reusable assets that improve the quality and cost of your technology solution, making it more viable to market
A large part of building sustainable models is the ability to create and execute reusable frameworks, something Clovity excels at. We are proud of our ability to achieve fast-paced development using in-house accelerators.
Born from the crystallization of our experiences with clients, and our desire to create an in-house solution, our accelerators are designed specifically to be used in all future client engagements.
These accelerators help us implement complex requirements in no time with minimum implementation effort.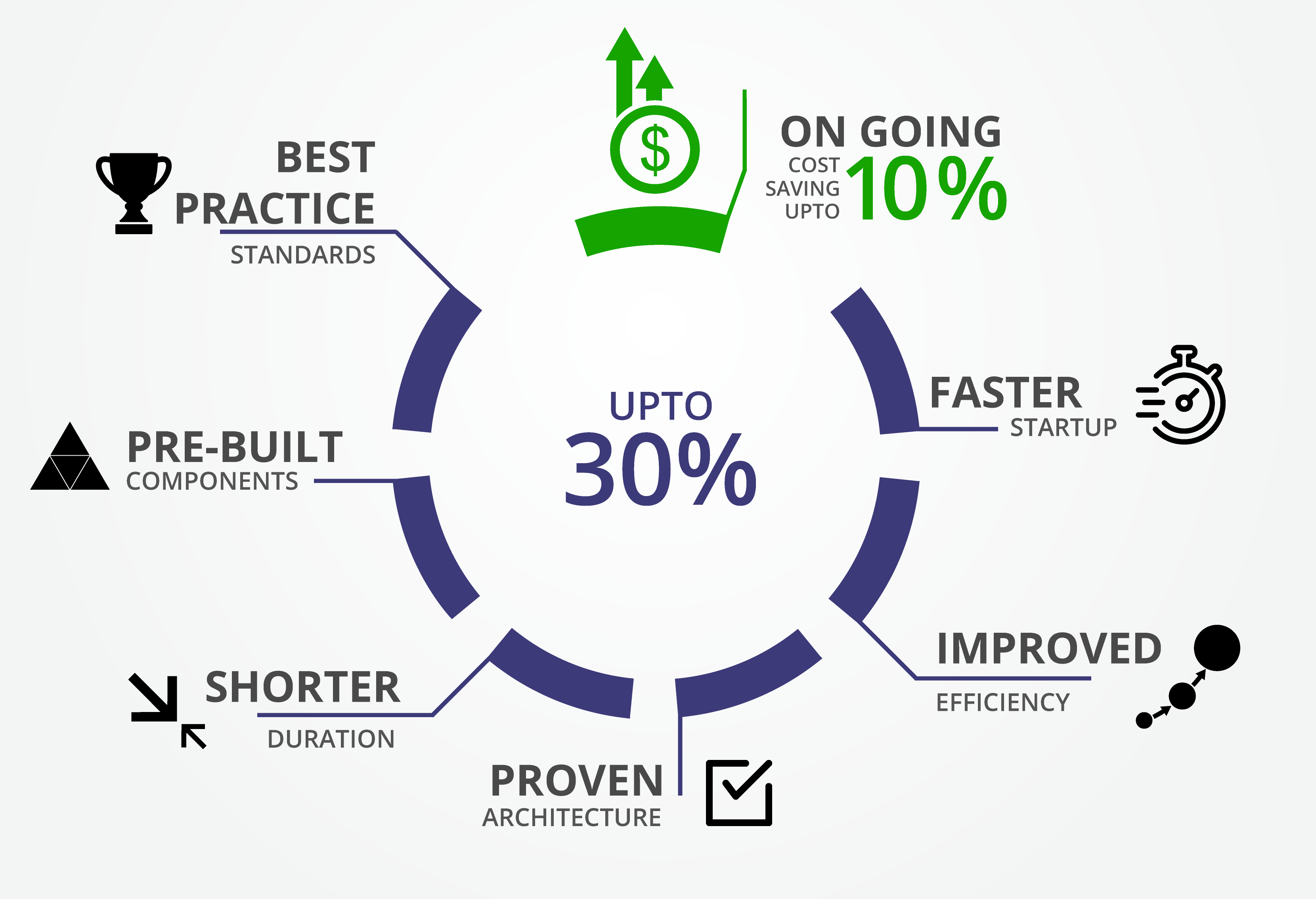 Our accelerators span across the following studios:
Mobility Accelerators
Developing mobile apps based on your specific organizational requirements
Having created a wide array of mobile solutions over multiple domains such as Retail & E-commerce, Banking, Healthcare, and Media, we are equipped with the experience and knowhow to design not only native solutions but also those that are compatible with hybrid platforms.
Designed to work together under the same framework, accelerator components enable developers to create attractive, functional multi-platform mobile applications, faster and with less effort.
Our applications concentrate on —
a. User Experience
Pre-built templates make it easy for users to sort, filter, and access the information they need. Developers just map their data and customize the look and feel.
b. Location Services
We provide a variety of location-based services from simple mapping and directions to desired locations, via a pre-built connection to Google Maps.
c. Auditing
Easily create an audit trail with the information you need for display and analysis. All you have to do is define the actions and device info you want tracked.
CRM and Quality Engineering Accelerators
We offer specialized CRM testing services that help reduce costs and time-to-test through automated testing services and quality engineering.
In the modern markets, CRM systems are essential to manage customer life-cycles and streamline operations. According to Gartner, "CRM implementation failure rates exceed 50% due to lack of effective CRM strategy and user adoption." That's why we focus on creating modular frameworks and pre-building test assets. Our solutions are focused on business objective, establish robust business processes, and ensure quality of implementation.
We follow an independent Quality Assurance and Testing process that's crucial to ensuring a higher success rate. Clovity's Quality Engineering helps achieve greater quality and better ROI, using an ingenious combination of our testing experience, CRM testing framework, and accelerators.
Technology Accelerators
Complete application foundations of architecture and code to create complete working platforms and build solutions from scratch.
Our technology accelerators allow us to start with a pre-coded, tested, and working backbone of the application and immediately begin building functionality that has tangible business value.
Our frameworks accelerate delivery of digital solutions by an average of up to 30%. Each framework is optimized for it's respective technology stack and designed to take advantage of native tools and technologies, while encouraging consistency and quality.
Our services encompass core features such as:
Support for multiple databases
Batch processing
Web Authentication
Asynchronous processing
PDF Generation[RR1]
Common development standards
Extensions
Email templating and sending
Caching
Role Based Authorization
Products & Pricing Accelerators
A lightweight framework that helps accelerate the building of product and pricing models for any online product roll-out.
Order management is a crucial aspect of a successful business operation. Our product and pricing accelerators are well equipped to manage a wide range of aspects, such as quoting, ordering, enterprise product catalog system, establishing right-designed product, and all pricing models in general.
We also pay special attention to UI design, process development, and collateral structure, while implementing product accelerators.
Industries we
focus on
Clovity is a True Agile Partner and focused on Banking, Healthcare, Retail & Technology driven industries to bring about transformation through customer success. Our deep Industry expertise, hand and glove partnering and leading IoT, Digital and Data transformation projects and powered by our solutions, plug and play, partner ecosystem and accelerators, we are delivering our client's customer promises.
We are passionate about helping
you maximize value of your

IoT investments - CSensorNet is your answer!
At Clovity, we believe that providing reliable, scalable and innovative solutions is the only way for guaranteed customer satisfaction. We analyze every problem as one element of a greater system, and combined with our solution accelerators and plug & play frameworks along with understanding of our customer ecosystem is the only way on how everything comes together with faster time to market for any product launch. Only by listening to the end user can we provide optimized solutions that solve the specific needs of the industries we serve. With ever more customers requiring ever more sophisticated solutions, only innovations tailored by informed thought leadership and solutions can provide customers with next generation cutting edge project solutions and platform - CSensorNet.
learn more