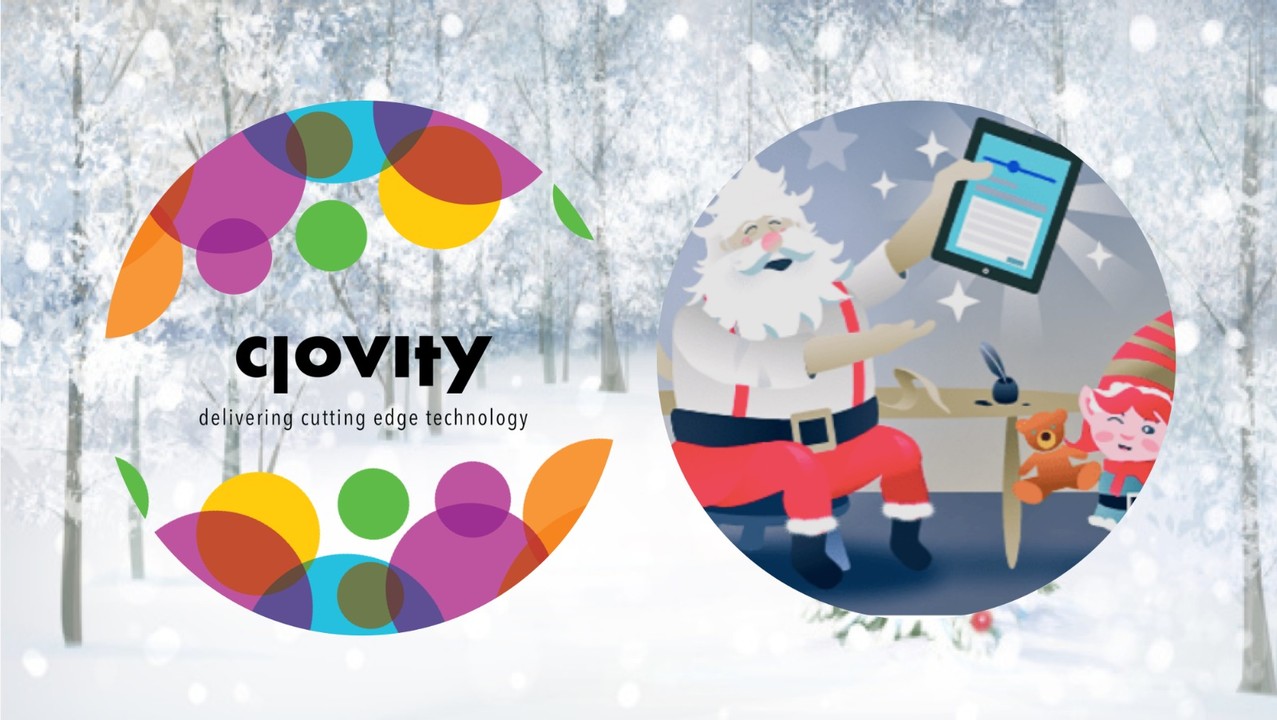 Introduction
On the eve of 2018 last year, we spoke about Santa nominating Clovity as Top IoT Solution provider. Now on the eve of 2019, I feel humbled to share some of our transformational client experiences this year. We have helped enterprises think smarter on how to best engage and fulfill their customer's expectations by leveraging the power of IoT.
As we close 2018 and approach 2019, it's time to take a quick inventory and make resolutions that will set the pace in the coming year for Team Clovity. I am elated to have had the opportunity to co-author our journey and our customer success stories. Big thanks to our teams who provide their inputs, ensuring the magical and inspirational spirit of the Holidays, Christmas and Santa (who is the HERO of our success here!) is in full force. As children, we are inspired by Santa who embodies the essence of kindness, togetherness, and most importantly endless imagination. It is that continued imagination through our adulthood that inspires us to think beyond the realm of what is possible. I am pleased to present how Clovity solutions have brought many of these ideas to life while our team continues to push the boundaries of what is possible each year.
The Limitless World of IoT 
As December enters its final weeks and we all bid goodbyes to 2018, Santa begins his annual preparations to visit the children of the world. The night that delivers a flurry of gifts causing children to fervently discard perfectly laid bows at 6am and almost inevitably causing their parents to wake up much earlier than they would ever choose to on a holiday. However, things have changed in the recent decade. The population has sharply risen since he first began his one night circumvent of the globe each 24th of December. Santa had to think smart to overcome this growing logistical conundrum. Santa had to go data driven.
The day before Christmas is a busy one up in the North Pole. As Santa makes the rounds ensuring everything is ready for the day ahead, he stops by first his below-tundra garage that houses his trusty sleigh. This year however, the man in red bought himself an early present (well a few actually). Entering the garage, massive high powered sprayers can be heard in the distance, meticulously cleaning every inch of his glimmering ruby red chariot.
Normally this would have been the elves job, but Santa couldn't take any risks on being delayed even for a second this year. It is rumored that each speck of dust can cause a 4 nanosecond delay, which is a significant amount if you have billions of houses to do in a 24 hour period. With his IoT enabled sprayer system, Santa is able to verify the sleigh has been thoroughly cleaned 365 degrees around and is ready for the fastest flight of its existence [Clovity's Customer: Groundbreaking IoT Enabled Spraying System company based in Illinois].
Just a short, brisk walk down a snowy path away from the garage, a large glass building comes into sight. Standing out in an unending sea of white, an oasis of green is an uncommon sight in the frozen tundra. A lush greenhouse sits perched on top of a snowy hill gleaming in the sun. While it might be the last thing you would expect here at the top of the world, the yearly journey Santa takes is getting more complex each passing year. Mrs. Claus insists on a more balanced diet for Santa as he continues to take on more responsibility. Utilizing cutting edge IoT agrotech soil and water sensors (and at times hydroponic systems), the Claus's are able to effectively grow a more well balanced meal for themselves year around [Clovity's Customer: Agricultural IoT company revolutionizing their industry based in San Francisco and Minnesota]. While Santa may have a cheat day filled with cookies each year, the rest are now focused around a well-balanced diet.
After filling up a large basket with carrots, spinach, onions, mushrooms, garlic and a number of other items for lunch, the big man heads back down towards the house to meet up with Mrs. Claus. Once the hearty meal was complete, it was time to check on the most important aspects of the day….gifts. Producing a tablet out of his furry coat, Santa begins checking warehouse activity levels through his connected lighting solution [Clovity's Customer: Innovative Connected Lighting Company in San Francisco and Atlanta]. Running some analytical comparisons from the last two weeks, he notices a significant drop in movement on the floor over the last few hours. The elves are ready for tonight.
IoT Empowering Business Transformation
Upon reaching the warehouse, Santa commences his routine safety check. This year however, his process is more refined. Instead of walking the thousands of rows looking for safety concerns, Mr. Claus has decided that an IoT solution would better serve him and his dedicated work force. With installed rack-monitoring IoT enabled devices, Santa is able to effectively target and inspect those racks that have encountered moderate to severe damage from the last few weeks of activity [Clovity's Customer: Quickly Expanding Industrial IIoT Device Manufacturer in United Kingdom]. Again, with his trusted connected smart tablet, Santa finds and tasks workers in a matter of moments to all potential problem areas within the warehouse. Once all of his workers' safety have been ensured, it is time for the big show.
Night begins to fall and the man in red runs through his final checklist before departing. He readies his launch tracking system to determine max reindeer speed upon take off. With Clovity's help customizing a drive-thru check point solution to his needs, Santa is able to effectively track exact time between sensing checkpoints on his runway [Clovity's Customer: Industry Dominating Drive-Thru Technology Company in Southern California]. Through some onboard analytics, he is able to verify that each checkpoint is reached in optimal timing and that his speed is sufficient enough to make the trip in time.
Just before take-off, Santa grabs his biotech health monitoring device and places it below his left rib. His current hydration levels and heart beat are baselined on his daily reading. From the comfort of their cottage, Mrs. Claus verifies her husband is in peak sleigh riding shape and initiates the go ahead for takeoff. If at any time in the course of 24 hours Santa shows any sign of fatigue or dehydration, Mrs. Claus is quickly able to receive word either recalling him to the north pole or sending a care package containing a vegetable smoothie to his current location [Clovity's Customer: Industry Revolutionizing Biotech Connected Device Company in San Francisco and Switzerland].
Santa speeds off into the night with a shiny red sleigh and a laugh that can be heard for miles. As he enters his first town, Santa utilizes his API to check homes for movement utilizing each smart home's IoT connected lighting [Clovity's Customer: Highly Innovative Connected Lighting Company in San Francisco and Atlanta]. With this, he can quickly surmise whether the house is quiet enough for him to do his thing without being seen. Once he has determined the houses with the least activity, he plots the most efficient route through the town.
Due to the blistering speed of delivery needed to cover so many individuals, Mr. Claus has initiated a mandatory diagnostic sensor be placed on each package enabling him to ensure each toy's quality control upon delivery [Clovity's Customer: Nano Sensor Manufacturer in Michigan]. While Santa's delivery magic is almost perfect, he never wants to leave anything to chance. If any packages have sustained too much damage, the platform will alert a tactical team of elves to swap out the package before sunrise. Using these sensors, the well-trained team of red-ops elves can identify and remedy any level damage before the children are ever the wiser.
Santa's IoT Powered 2019 Christmas Ride 2.0
While Santa finishes his rounds just in the St. Nick-of-time and heads back for his year of relaxation and preparation, Clovity is still hard at work coming up with the next connected device solutions to ensure he can handle the ever-increasing workload. What's next for Santa's journey you might ask? Well since you asked, here's some things the technologists at Clovity have cooking for next year.
The expansion of smart cities will forever change the way Santa interacts with the towns and cities that he passes through. By offering Santa the right API exposure to interact with all connected devices in his surround area, he will be able to manipulate traffic lights if he needs to fly low due to heavy winds caused by the large buildings, avoid emergency-responder blocked areas, and dim streetlights if he has to fly low to remain undetected [Clovity's Customer: US Municipality Pioneering Smart City Innovations in Denver]. 
Due to the timely nature of Santa's job and his new reliance on technology, Clovity is building a proprietary low-band network for him to utilize [Clovity's Customer: NextGen Telecom Provider Specializing in M2M and IoT Connectivity from France]. Depending on weather conditions and bandwidth capabilities, this new SantaWolf network will allow him to quickly and easily switch between 5G bands and low-frequency.
Our technologists are also in the midst of migrating Santa's TMS (Toy Management System) and his RMS (Reindeer Management System) to a robust Cloud that is capable of effective IoT management as well as preconfigured Artificial Intelligence and Machine Learning functionality [Clovity's Customer: Leading Storage and Hardware Solution Firm in San Francisco]. 
By leveraging Clovity's best-of-breed Cloud partnership, Santa will have access to never before imagined data availability, especially as 5G is rolled out across the world. 
Lastly, as humans take strides to start settling other planets in our solar system in the coming years, Clovity is helping Santa expand his 5G network and IoT capability globally. As Mars is the first stop for humanity's extra-terrestrial expansion, it is only natural to start ensuring Santa's ability to bring a touch of home to those on the red planet. This year was the rover. Next year is planning for the real test of 5G space networks!
Written By Anuj Sachdeva, CEO @ Clovity, December 21, 2018