Banking & Financial Solutions
Reinventing Technology Lead Financial practices and molding the tried-and-trusted knowledge to excel in today's fast paced world
The financial market is a complicated interconnected businesses that involves rapid decisions which has far-reaching consequences. The use of machines and algorithms further complicates the sector, making it nearly impossible to navigate them.
But not for us!
Our banking and financial solutions are based on the most forward looking and innovative market practices. We work on high-functioning data streams, which are supported by the most reliable technology resources available in the market.
Clovity joins the nexus of Social, Mobile, Big Data, Cloud, and Internet of Things (IoT) to drive growth, improve accountability, and reduce costs across a broad set of banking and financial applications and functionalities. Our team delivers solutions and results which lie at the intersection of Big Data and IoT, Big Data adoption, analytics, and Big Data distributions. With the evolution of gamification and user centricity, Clovity's innovative solutions combines machine learning and AI tools to boost IoT adoption, enhance customer experience, and improve your organization's bottom and top line.
our value
proposition
Thought Leadership
Pushing new technology transformation agenda to stay relevant in the modern market
We help you develop a business model that adheres to your company's core values. From inception to completion, we can chalk out a business plan that's best suited to not only your needs, but that of your clients as well.
We adapt traditions to modern practices
No matter what your scale of operation, we're equipped to handle all your needs.
Development and Integration
We build, we deploy, we integrate. You grow.
What we plan for you, we're more than capable of executing. We offer the entire spectrum of physical and electronic services: Retail and corporate banking solutions, block-chain and crypto-currencies, mobility and enterprise solutions, payment and e-commerce platforms, and advanced AI and biometric frameworks.
Our expansive development capability is aptly supported by our top-of-the-line integration modules.
Together, you'll get a seamless, virtually single body of work that will help you transition smoothly from design to development to integration and beyond.
Pre-Made Solutions
Our experience and expertise - at your service
Our vast and varied experience has made it possible to identify, define, and categorize the most likely problems of the field. We then developed readymade service packages to deal with these issues.
We have three specially made "embroidered plug-and-play" services to offer. These can be used individually or with each other, depending on your needs.
Document Digitalization Frameworks: Converting your entire documentation to digital format for easy access, sorting, and backups.
Advanced Analytics Frameworks: State-of-the-art predictive analysis algorithms to better your deployment strategies and minimize risk.
Advanced Biometric Solutions: Anti-theft, anti-hacking, cyber-secure biometric solutions to keep your data and information always safe.
Internet of Things
The incredible power of things that come together intelligently to create value
Clovity uses AI and Machine Learning to bring out newer optimal solutions. In true 'Internet of Things' fashion, we club our services together, creating a whole that's more valuable than the sum of individual services.
The financial sector is a huge candidate for IoT applications.
From security enhancement through wearables to the use of GPS to better global payment systems, the applications are practically limitless.
One Step Ahead, Always
As the market evolves, so do we
The modern financial market space is continuously evolving, both in terms of functionality and possible threats. We invest heavily in research and development to keep ahead of the curve. More importantly, we invest in people and innovation, and keep a close watch on our own progress.
You get to enjoy the end product of all that constant effort - a sure, secure, and simple customer centric financial service.
clovity Synthesis
Clovity's Synthesis™ framework is a simple but powerful approach to Agile — an amalgamation of simple and realistic solutions to overcome the challenges in achieving true Agile.
Synthesis™ overcomes the constraints that an organization faces and delivers success.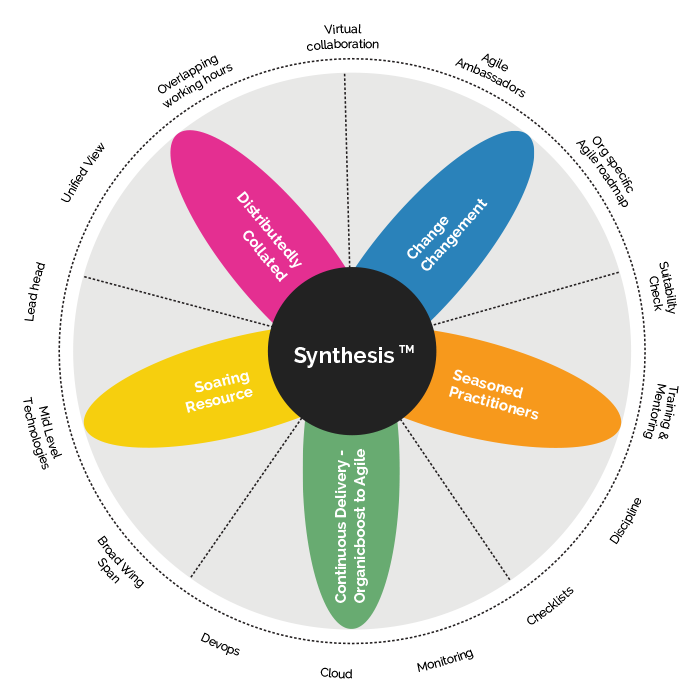 learn more
our studios
At Clovity Studios, we are combining our efforts and energies together to bring about a successful transformation in IoT, Digital, Mobile and Big Data focus in Banking, Healthcare and Retail industries through leveraging Synthesis and Ture Agile Methodologies with Onsite and CloudDev to every aspect of our client's lives, businesses and engagements. Every strand at Clovity works in absolute synchrony to create a powerful transformation, and serves as building blocks for all future advancements.
We are passionate about helping
you maximize value of your

technology investments!
At Clovity, we believe that providing reliable, scalable and innovative solutions is the only way for guaranteed customer satisfaction. We analyze every problem as one element of a greater system, and combined with our solution accelerators and plug & play frameworks along with understanding of our customer ecosystem is the only way on how everything comes together with faster time to market for any product launch. Only by listening to the end user can we provide optimized solutions that solve the specific needs of the industries we serve. With ever more customers requiring ever more sophisticated solutions, only innovations tailored by informed thought leadership and solutions can provide customers with next generation cutting edge project deliveries.
learn more